Asain Invasion! Can carp be stopped?
Big fish prompt big fight over Great Lakes water rights
April 26, 2010 2:00 p.m. EDT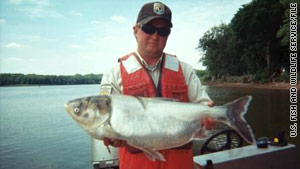 Asian carp can grow to 4 feet long and 100 pounds, and they can eat 40 percent of their body weight daily.
STORY HIGHLIGHTS
Justices won't get involved in dispute between six states, Ontario
Some say Illinois water system will allow huge fish into Lake Michigan
Multibillion-dollar fishing industry could be at stake, official says
High court has repeatedly been asked to close locks and dams
Washington (CNN) -- The Supreme Court, perhaps for the final time, has rejected a multistate appeal over efforts to keep the invasive Asian carp from reaching the Great Lakes ecosystem.
The justices turned aside another request for intervention Monday, the latest chapter in a nearly century-old dispute between six Midwest states and the Canadian province of Ontario.
At issue is a direct challenge to Illinois' complex water diversion and sewage disposal network, which some predict will inadvertently allow the non-native fish to enter Lake Michigan. Some environmentalists and lawmakers fear an economic and ecological disaster if the creatures breach man-made barriers. And there are concerns that the fish may have already slipped past locks and entered the massive freshwater bodies of water.
read more at: http://www.cnn.com/2010/CRIME/04/26/great.lakes.carp/index.html?iref=all...